Buy direct from the SUPER TURMERIC FARMER !
SUPER TURMERIC has its own farm located in the islands of sunny Fiji. TURMERIC FARM AUSTRALIA produces one of its purest forms of this SUPER FOOD ON THE PLANET.
Naturally grown without fertiliser or without spray and an ancient farming practice called crop rotation encourage certain kinds of weeds to grow as companion crop with the turmeric plant to produce a most healthy crop.
With an unpolluted climate you are sure to get most potent and BEYOND ORGANICS Super Turmeric product from our TURMERIC FARM AUSTRALIA – 95% Curcumin at wholesale prices direct from Turmeric Farmer – 619 scientifically proven medical benefits.
With 5000 years in the making I now bring you BEST OF THE BEST IN TURMERIC PRODUCTS for man kind … as nature intended ! A unique blend of turmeric in capsules and powders.
Bio-Prem authentic ayurvedic formula … Indian origin science and technology over 5,000 years old for 21st century modern cure. From grand father to grand son – well over 141 years of SUPER TURMERIC FARMING PRACTICE – we bring you the BEST OF THE BEST CURCUMIN 95% (curcuminoid) from a non polluted land and atmosphere. Natural turmeric to Australians, Kiwis, and rest of the world. AUSTRALIAN FARMER proudly growing SUPER TURMERIC FOR AUSTRALIANS … BEYOND ORGANIC … so settle for the Best Super Turmeric Product from our Fiji farms.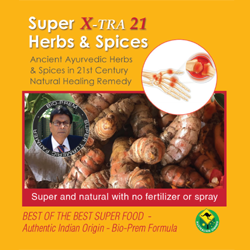 Available Now from our On-line Store
Turmeric is made from the root of an EAST INDIAN plant origin called THE GOLDEN SPICE OR INDIAN GOLD. Turmeric's botanical name is CURCUMA LONGA. It is an important part of Ayurvedic or An Ancient Indian Healing practiced in INDIA FOR OVER 5,000 years.
Super Turmeric is SUPER FOOD … natural anti-inflammatory, may help with arthritis pain, increase anti-oxident in body. There has been 619 scientific studies conducted with most positive results!
To get the benefits of Super Turmeric Powder – try this recipe:
Take 1/2 tea spoon in the morning and afternoon with meals. Mix with chilled water, warm water, tea, coffee, milk or your favourite drink.
Store in cool dry place.
Made from imported and local products.
100% Australian company.
SUPER TURMERIC IS SUPER FOOD. If unsure of this super food please consult your doctor regarding any medications you use.